I've been trying out a few new recipes lately, with varying degrees of success. These two both surprised me.
The rhubarb loaf recipe came from my new Hummingbird book, 'Cake Days'. On first inspection it felt as though the people at the Hummingbird Bakery were scraping the barrel a bit in order to put together a second book. Some of the recipes did not appeal to me at all and a few of the old favourites, such as vanilla and red velvet cupcakes, had reappeared after already being published in the first book. After a second read through however, I had a mental list of several recipes I fancied trying, one of which was this rhubarb and almond cake. It didn't look hugely exciting in the picture but would be a welcome change from cupcakes and frosting (and besides, rhubarb is in season and half price in Sainsbury's at the moment).
The cake I produced looked even less exciting than the one pictured in the pretty book as it lacked the lovely pink colour of the rhubarb that was shown. I think I may have 'over stewed' my rhubarb a little, but I still can't see how the Hummingbird bakers achieved this colour throughout their cake. I guess they paid a bit more for their rhubarb and didn't get any green bits! Aside from the colour mine still didn't look quite right but it tasted good, and better still after a few hours when the flavour of the ground almonds became more pronounced and the spices a bit more subtle.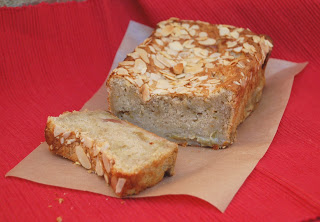 I had initially deemed this cake a disaster as it had a kind of stodgy look about it, but I have been converted and will definitely give this one another go. It has also been a good introduction to rhubarb for my daughter who absolutely loves this cake.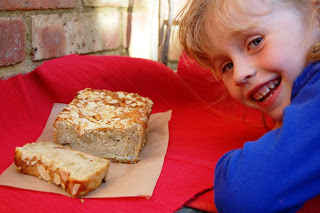 The recipe for Bill Granger's coconut and lime macadamia cake was recommended by a friend who recently moved to South Africa. Macadamia nuts come cheap in Cape Town so she makes this one regularly for her family. With six eggs and two packets of macadamias this cake is a bit more of a luxury over here, but definitely worth making once in a while. I found the recipe on the BBC web site, which comes complete with a printable shopping list!
Again I wasn't convinced when this one came out of the oven. It looked boring and as though it might have a bit of a rubbery texture. However the lime glaze and some lime zest sprinkled on top transformed the look of the cake, and the sponge was soft and moist. The dessicated coconut added an extra something to the texture and the flavour combination was perfect. This is also a dairy free cake and so would be a good alternative to a traditional birthday cake for those with a dairy intolerance.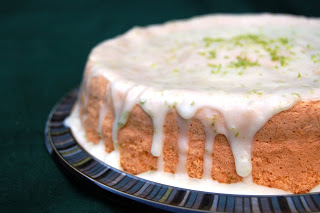 I have since read many good things about Bill Granger's cake recipes and will be on the look out for another one to try. Any recommendations?