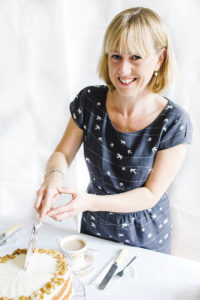 My name is Lucy Lovell, and as Vanilla Frost Cakes I have been making home baked, hand crafted cakes since November 2011. I am based in Ealing and deliver to personal and corporate clients across London, as well as two local cafes.
I grew up in Cornwall and learnt to bake from an early age, spending time in the kitchen with my mum and grandmother. Although I left Cornwall a long time ago I still think that most cake tastes better with a generous dollop of clotted cream!
After graduating from SOAS I settled in London, and worked as a PA for several years. I now live with my husband and two children, and bake cakes most of the day and half of the night.
I also love developing new recipes, and have been commissioned to write for the Good Food web site. I plan to share my recipes here, on my web site, as well as news and pictures of my latest creations.