Today was my daughter's summer school fair, and my contribution to the day's festivities was to bake some cakes. I managed to be reasonably organised and do most of this the evening before, but made sure to save a bit for Saturday morning, to guarantee a bit of extra chaos. I baked the requisite cupcakes decorated with sweets (jellybeans in this case), and a lemon and poppy seed loaf for the more mature punters. I had wanted to try out the recipe from the Hummingbird Bakery's Cake Days book, but didn't have the ricotta cheese I needed. Instead I returned to my tried and tested Nigella recipe from Domestic Goddess and added a couple of tablespoons of poppy seeds. This recipe is great and always turns out well, though I would recommend lining the sides of the tin as well as the bottom as the lemon syrup glues the loaf to the tin. This is not what you need when you're running late for a ballet class and need to get out of the door as quickly as possible.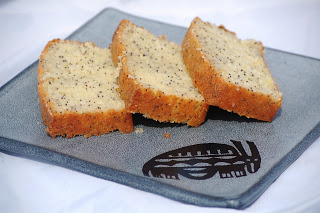 Lemon and Poppy Seed Loaf
adapted from 'How to be a Domestic Goddess' by Nigella Lawson
125g unsalted butter
175g caster sugar
2 large eggs, beaten
zest of 1 lemon
175g self raising flour
pinch of salt
4 tablespoons milk
2 tablespoons poppy seeds (optional)
4 tablespoons lemon juice
100g icing sugar
Pre-heat oven to 180 degrees and line a 450g loaf tin with parchment.
Cream together the butter and sugar. Add the eggs one at a time, then the lemon zest, beating well. Fold in the flour and salt, and then the milk and poppy seeds. Bake for approximately 45 minutes.
Heat the lemon juice and icing sugar gently until all the sugar is dissolved.
As soon as the cake comes out of the oven, puncture all over the top with a cake tester or small skewer. Leaving the cake in the tin slowly pour the lemon syrup over, letting it sink into the holes. Do not remove the cake from the tin until completely cool.
Nigella suggests spiking the syrup with a little limoncello, which sounds like a marvellous idea to me. Must remember to buy some!