If, like me, you still haven't decided on your Christmas Day dessert then you might want to take a look at my Christmas cheesecake. This was one of the recipes that I recently developed for the Good Food Channel website, and I have made it several times since. In fact I have eaten so much of it lately that I think I fancy a change for Christmas Day!
This is a baked cheesecake with a lovely smooth texture on a ginger biscuit base. The cheesecake has some finely chopped glace ginger pieces sitting on top of the base, and some dried ginger to give it some extra flavour. A tangy cranberry and brandy coulis layer on top provides a lovely contrast to the rich, creamy cheesecake.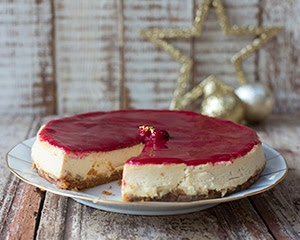 Photograph by Sharron Gibson, The Image Garden

Visit the Good Food Channel website to see the recipe in full.