I recently developed some new recipes for the Good Food Channel website, including a couple especially for Easter. I am not a big fan of fruit cake and as such the traditional simnel cake doesn't often get made in my house. However I do like the idea of a big cake to share with the family over the Easter weekend, something that is especially for Easter. I came up with this zesty lemon simnel cake as a modern alternative, using cake pops coated in white chocolate to represent the apostles, instead of the traditional marzipan balls.
It does require a little effort but looks impressive and will appeal to kids and grown ups alike. I used a version of this as a birthday cake too. This worked well as the children ate the cake pops at the party and took their cake slices home with them.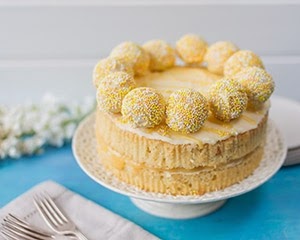 I also came up with some chocolate ganache and coconut tartlets, topped with a Mini Egg to look like a little nest. These are very moreish, and I find it hard to stop at eating one, but I do love that dark chocolate and coconut pairing. These are quite simple to make, and again the
recipe
is over at the
Good Food Channel
website.
Katie also wrote a lovely Easter
recipe
for Good Food – these delicious and dainty simnel biscuits. Incorporating all the flavours of a simnel cake, these a lighter treat to have with a cup of tea, and as Katie says, they would make a great Easter gift alternative to chocolate.