Today is St Piran's Day, named after the patron saint of both Cornwall and tin miners. I thought I'd celebrate with a spot of Cornish baking, and spent the morning experimenting with Cornish fairings.
For hundreds of years, many edible treats sold at fairs around the country were known as fairings, but the Cornish version traditionally took the form of a spiced ginger biscuit. Ginger biscuits are very popular in our house, so I thought these would go down well as an after school treat. They are so easy to make that I think we may be celebrating St Piran again soon.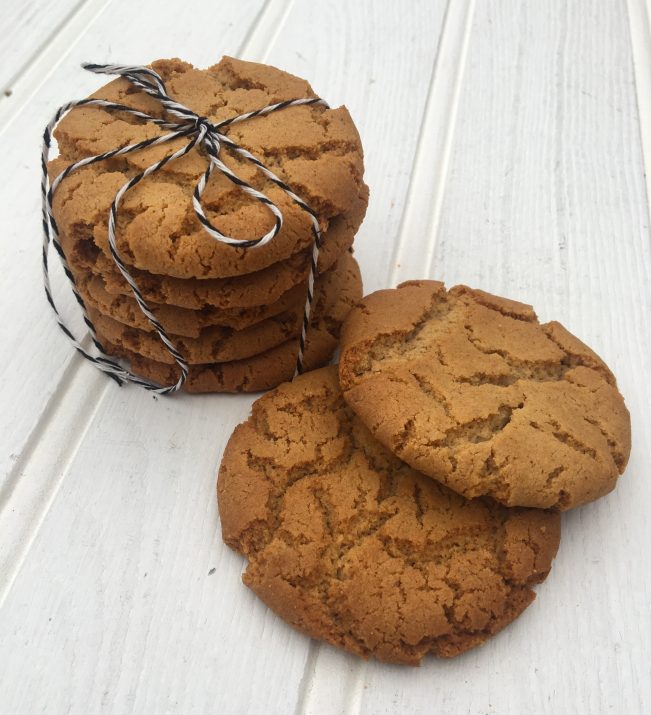 Cornish Fairings
Lightly spiced, crunchy ginger biscuits with a cracked texture. A quick and easy recipe.
Ingredients
75

g

golden syrup, warmed

250

g

plain flour, sifted

100

g

butter, diced

100

g

caster sugar

1

tsp

bicarbonate of soda

2

tsp

baking powder

1

tsp

mixed spice

1

tsp

cinnamon powder

3

tsp

ginger powder
Instructions
Preheat oven to 190°C/170°C fan/gas 5.

Place the tin or bottle of golden syrup into a pan of hot water, to warm the syrup through.

Place the flour and butter into a food processor and mix until the butter resembles breadcrumbs. The pulse setting works well here.

Add the remaining dry ingredients and mix.

Add the golden syrup and mix until the dough comes together. The mixture may appear quite dry, but will combine. You may need to finish it by hand.

Divide the mixture into 16 balls and place on lined baking trays, with space for the dough to spread.

Bake for 12 mins, then swap the trays around in the oven and bake for another 3-4 minutes for crisper biscuits, making sure that they don't burn.

Leave to cool on the trays for a few minutes before removing to a cooling rack.