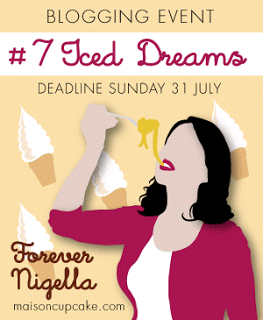 I would love to participate in this event by making one of Nigella's ice creams, but unfortunately there is barely room in the freezer for a Cornetto never mind a whole tub of the good stuff. However an invite to a friend's BBQ last weekend presented a perfect opportunity to knock up one of my favourite Nigella chilled desserts instead, her lovely London cheesecake.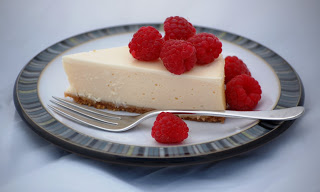 As far as I can tell this receipe is foolproof. I have made it many times and not experienced a disaster yet. In fact I dread to think how many slices of this I have eaten in the last few years. Best not to think about these things probably. The recipe comes from Domestic Goddess, but Nigella has kindly published it online as well:
http://www.nigella.com/recipes/view/london-cheesecake-147
The cheesecake is lovely on its own, but I have added a few raspberries to mine for a more summery taste. These would also have worked well as a coulis drizzled on top.
Forever Nigella #7 is hosted by Arthi at Soul Curry, with the homepage belonging to Maison Cupcake. Pay them a visit to see more chilled and frozen Nigella treats.