I have been meaning to bake biscotti for some time now, and when Astral at The Art of Being Perfect provided us with a recipe on her blog, I had no excuse not to crack on with it. I had been in a local cafe with my son the very same day and had introduced him to biscotti then. I'm not sure it's meant to be dunked in banana milkshake but he enjoyed it. I assured him he would like the home made version even more and set to work on our return home.
I used Astral's recipe, with a couple of flavour variations. First up was cranberry, white chocolate and almond as that was what I found lurking in the cupboard. I unfortunately had to shorten the cooking time by a couple of minutes as I was once again running late for school pick up. This meant that the biscotti were a touch softer than they should have been, but were absolutely delicious nonetheless. The recipe was very simple and with the correct cooking time these biscotti would have been perfect.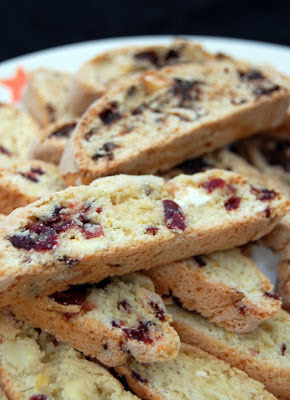 Determined to get it right, and greedy for more, I baked another batch the next day using dark chocolate, orange and hazlenut. Like the first batch, these were well received by husband and kids, and have now become a firm family favourite. I can see that there will be more flavour combinations to come. Thanks to Astral for the recipe, it's spot on!