I have been experimenting a bit this week, with some new ideas. I still have madelines and French fancies to try but can now cross 'mini cakes' off my list. I have seen some beautiful pictures of mini cakes recently and really fancied making a few of my own. An order for a coffee and walnut cake this week gave me the perfect excuse to do so. I made an extra layer of sponge and used a high sided 6cm cutter to cut four rounds of cake. This was enough to make two mini cakes, sandwiched together with coffee buttercream. I then covered these with chocolate flavour sugarpaste, and made some pretty pink flowers for the tops.
The cakes looked pretty with the plain sides, but even better with some piped chocolate buttercream.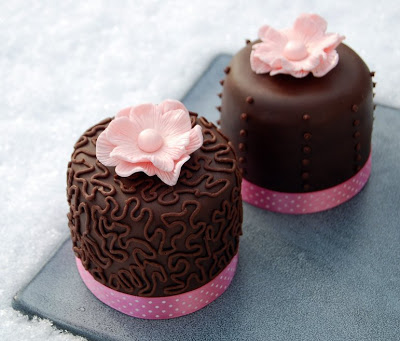 It's a lot of work for a little cake, but they do look rather sweet. They seem popular for weddings at the moment, though I'm not really sure how they would be served. They are too big for one person, but perhaps just right for two. I will definitely be making some more, as there is lots of scope for decoration here. I might even try my hand at cake painting with some of these.
French fancies next I think.