It's been a crazy weekend of baking and general family goings on. I had four cakes to bake this weekend and no husband to help with running the kids around. He was off skiing for the first time in twenty years, on a trip with his three brothers that I was convinced would result in at least one broken bone between them. Being the show off daredevil that he is, he did mange to mash his face up a bit, but thankfully nothing got broken. Unfortunately he is now confined to bed with a stomach bug, so despite his return is still no help to me whatsoever! (I'm oozing with sympathy really, he does look pretty awful).
The first three cakes were due for completion on Saturday morning, so Friday night was a very late finish for me. Thankfully I had a friend and a bottle of prosecco to keep me company. First up was a two tier monster cake for a third birthday, followed by an attempt at a Cartier watch face. Pictures of these to follow later
Next up was a lovely, simple black and white cake for a twelth birthday. I don't get many cake orders for this sort of age group, so this was lovely to do. The birthday girl had orginially seen one she liked in Waitrose, but had left it too late to order. I'm pleased to say that in the end she much preferred my version. I'm not sure if anyone ate the black roses or not, but I supsect there will be a few black teeth and lips around if they did!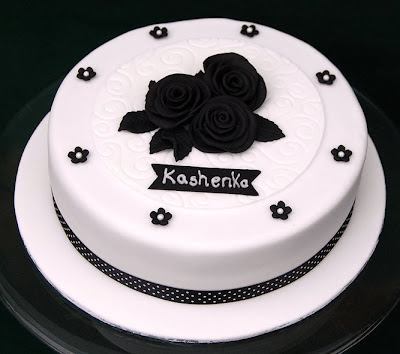 The last cake of the weekend was for one of my daughter's friends. She wanted a crown on top of something pink and yellow. I was a little nervous about the tiara I made as I had a horrible feeling it would not stand up on its own, or I would break it when removing its drying support. Thankfully, the one small break was easily repaired and it stood up well. I gather the birthday girl was happy, and that's the most important thing!
More pictures to follow later. I'm off to bake some macarons.